What We Do
What We Do

To deliver the best returns on your investment, we offer any combination of:

Software which is enterprise ready
Bureau Services which helps you manage your energy data &
Consulting services which includes energy budgets, procurement support, analysis and special projects.

Consultancy

Experts helping unlock real value with reductions & understanding.

Helping to measure, manage, communicate and reduce your environmental impact. Read More>>

Bureau Services

"Why spend your precious time when experts can do it quicker with the right tools, processes and a skilled team."

Outsourcing & freeing up your resources backed by our software. Read More>>

Software

A smart management tool – streamlining data collection, mining & reports

eProExpert provides in-depth expert level processing, analysis and reporting for the most demanding audience.

eProWeb provides management view, web-based, dynamic reporting and filtering of data to ensure that the details do not cloud the outcomes.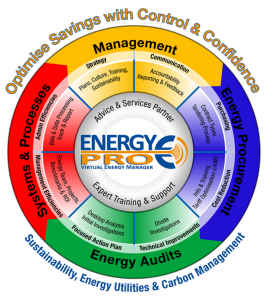 We support your organisation with…
Management –

Strategies & Communication
Energy Utilities and Carbon Management support and services

Carbon emissions and management reporting

Consultancy and Advisory

Training and management workshops
Energy Procurement –

Purchasing and Cost reductions
Supporting Information to enable better decisions
Energy Audits –

Focused action plan and Technical improvements
Measurement and quantification of savings 
Systems and Processes –

Management and Administrative efficiencies
Bill verification and processing

Benchmarking, monitoring and targeting
A solution that is powerful, yet simple and flexible enough to suit your current requirements.

Our solutions are underpinned by our unique software system and quality team, with industry expertise and tools developed since 1992. 

The advantage is that you only pay for what you need, with peace of mind that it can adapt to provide advanced needs as your energy savings plan grows.